Dec 16, 2021
Litigation & Dispute Resolution
Meyer Suozzi is proud to announce on Monday, December 13, 2021, New York State Judge Janet DiFiore appointed Hon. Randall T. Eng to the New York State Commission on Prosecutorial Conduct. Appointed alongside him are Hon. Michael J. Obus and Professor Michael A. Simmons, dean of St. John's University School of Law.
Recent state legislation created the Commission as an independent entity dedicated to investigating prosecutorial conduct in New York State, serving to strengthen oversight of New York's prosecutors and holding them to the highest ethical standards in the exercise of their duties.
The New York State Commission on Prosecutorial Conduct is made up of 11 non-salaried members, three of which are appointed by the chief judge. Two must be retired judges, one with significant experience providing public defense services and the other with significant prosecutorial experience. The chief judge's third appointee must be a full-time law professor or dean with significant experience in criminal law.
Justice Eng, along with his colleagues serving on the commission, will receive, initiate, investigate, and listen to complaints related to qualifications, conduct, fitness to perform, and the performance of official duties of any prosecutor in New York State. The commission may conduct hearings, administer oaths, subpoena, examine witnesses, and require the production of records or other evidence deemed relevant to the investigation. The commission is authorized to make a recommendation to the Governor that a prosecutor be removed from office for cause and must report annually to the governor, legislature, and chief judge with respect to proceedings in which there has been a final determination.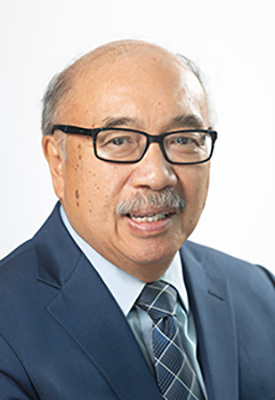 Justice Randall T. Eng is Of Counsel to Meyer, Suozzi, English & Klein, P.C., and a member of the Litigation Department, including the Appellate Practice and Criminal Defense groups. Justice Eng also serves as referee, receiver, and arbitrator within the firm's Alternative Dispute Resolution practice.
Justice Eng taps his vast legal and judicial experience to provide unique and insightful counsel and advice to Meyer Suozzi's clients, including all manner of business affairs, litigation, appeals, and dispute resolution.
Justice Eng earned his undergraduate degree from the State University of New York at Buffalo and his Juris Doctor degree from St. John's University School of Law in 1972.
Following law school, Justice Eng began his esteemed legal career in public service as an assistant district attorney in Queens County. At the time, he became the first Asian American appointed as an assistant prosecutor in New York State history. He then served as the Deputy Inspector General of the New York City Correction Department and later became the Inspector General
In 1983, Justice Eng became the first Asian American to become a judge in New York State, when he was appointed to the Criminal Court of the City of New York by Mayor Edward I. Koch. He sat in the Criminal Court until 1988 when he was designated an Acting Justice of the New York State Supreme Court.
About Meyer Suozzi
Founded in 1960, Meyer, Suozzi, English & Klein, P.C. is a distinguished provider of legal services, with a reputation for integrity, insight, and excellent client service. The firm's attorneys are committed to their clients, community, public affairs, and diversity. With offices in Albany, Garden City, Manhattan, and Washington, D.C., the firm provides legal advice in a wide array of practice areas. For more information, visit www.msek.com.