Dec 15, 2021
Corporate Law
Corporate Finance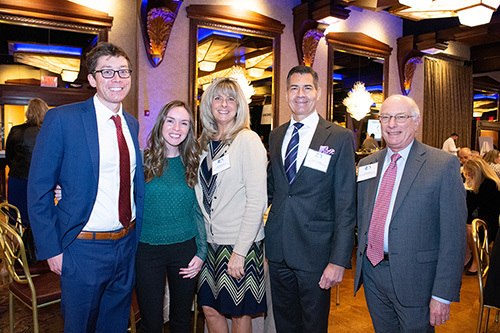 December 21, 2021 - On Tuesday, December 14, 2021 the Long Island Business News ("LIBN") hosted their 40 Under 40 Awards honoring future leaders of Long Island, who have distinguished themselves in business, government, education, and the not-for-profit sector. Among them is Meyer Suozzi's Steven T. Cheng, an associate in the Corporate Department at Meyer Suozzi.
Since 1998, LIBN has accepted nominations for outstanding members of the business community on Long Island. Alongside their proven track record of career success, honorees are involved in mentoring and promoting their profession and find time to give back to their communities.
Steven T. Cheng was honored at the 40 Under 40 Awards, for his outstanding career in Corporate Law and Corporate Finance as well as for his contributions to the community acting as a mentor to the students of Hofstra. As an associate in the Corporate Department at Meyer Suozzi, Mr. Cheng focuses his practice on general corporate law, providing counsel to businesses at all stages (start-up, emerging/development, mature and exiting). He provides day-to-day legal advice on operational issues as they arise, including contract drafting and negotiating (IP licenses, employment, confidentiality, manufacturer, services and distributor agreements) as well as term sheet review and negotiation. He focuses his practice on mergers and acquisitions representing middle market buyers and seller in financial and strategic transactions including distressed transactions and 363 sales. His practice stems to corporate finance transactions representing issuers and investors in seed, emerging and venture capital transactions.
Just this past year, Mr. Cheng was a part of a team of Meyer Suozzi attorneys, who were instrumental in representing Rubie's Costume Company in its Chapter 11 Restructuring. Their representation went on to be named the 2021 winner of the "Chapter 11 Restructuring of the Year Award" for small to middle market companies at the Global M&A Network's 13th Annual Turnaround Atlas Awards.
Mr. Cheng received his Juris Doctor, Magna Cum Laude, from Hofstra University School of Law in 2011, after obtaining his Bachelor of Arts, Cum Laude, from Bucknell University where he double majored in Economics and Political Science.
In addition to practicing law, Mr. Cheng remains involved with Hofstra University as he mentors students at the Hofstra Center for Entrepreneurs. He recently served as a judge for Hofstra's Intro to Global Entrepreneurship business idea competition.
Meyer Suozzi congratulates Mr. Cheng and all of this year's honorees.