Media Source: Long Island Herald

RichnerLIVE, Herald launch inaugural Top Lawyers of Long Island Awards Gala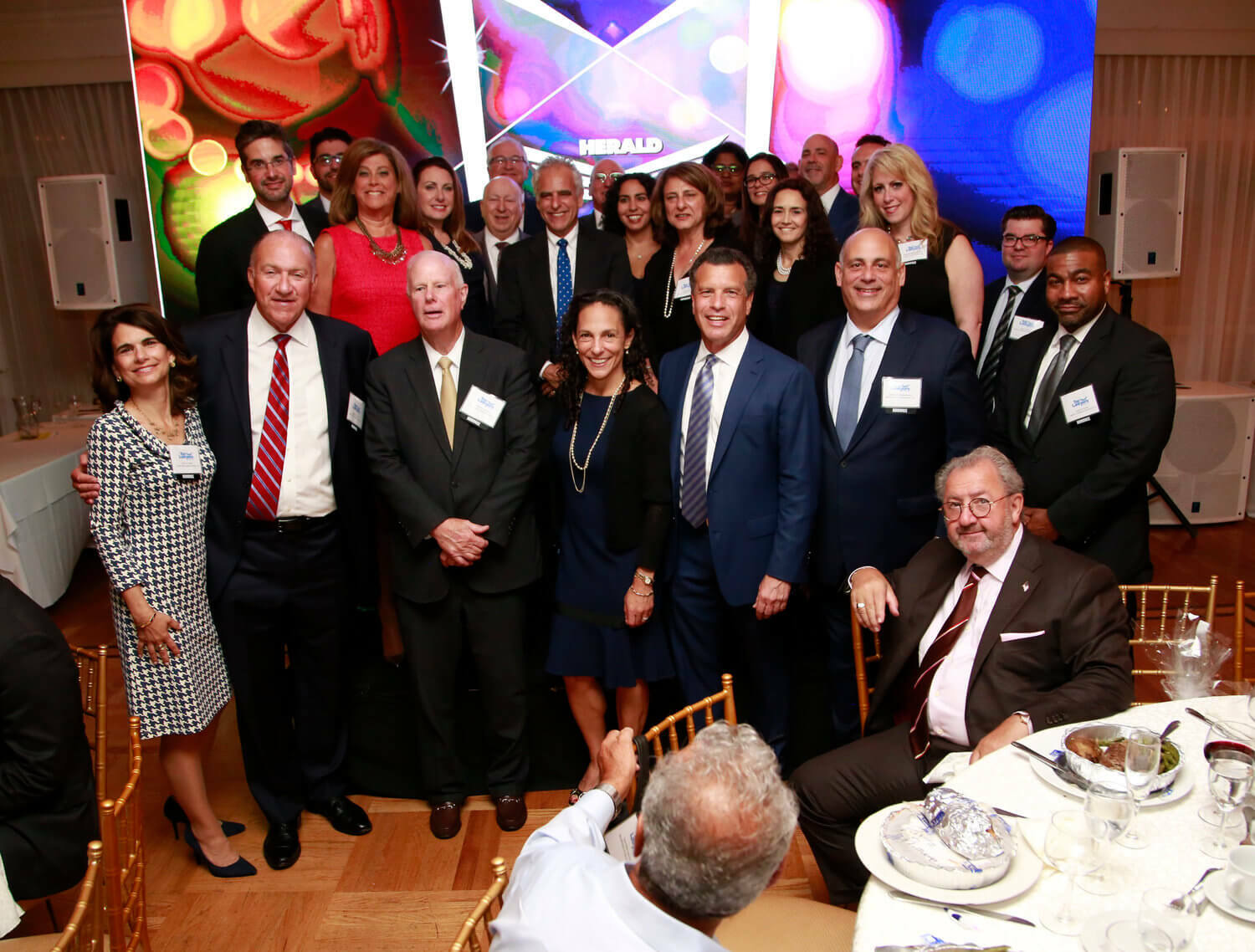 Long Island's most successful and esteemed lawyers rubbed elbows at the Carltun in East Meadow's Eisenhower Park on Sept. 25, where hundreds gathered to celebrate the inaugural Top Lawyers of Long Island Awards Gala.
RichnerLIVE, the events division of Richner Communications, and Herald Community Newspapers honored nearly 50 of the highest-performing legal professionals and law groups at the event.
Honorees were nominated by members of their community based on their proficiency in a variety of different practices, including banking and finance, corporate, bankruptcy, civil rights, divorce mediation and matrimony, criminal, debt, education, emerging companies and capital, elder law, family law, health care, labor and employment, land use and zoning, mass torts, litigation, medical malpractice, personal injury, tax, real estate, tax certiorari and trust and estates.
The event also honored Rising Stars Under 40, the top legal firms based on size, top philanthropic firm, Pro Bono Project of the Year and Top Boutique Firm.
The night kicked off with a VIP reception and a networking and cocktail party, at which a performer wore a shimmering "champagne dress" that was fastened to a table and lined with glasses of champagne that she served to guests.
Samantha DeVictoria and Samantha Frankel, sales managers at Golden Pear Funding, a nationwide provider of consumer legal funding that was one of the event's sponsors, greeted honorees and guests. "If you've been in a car accident, or any accident, and you can't work and have a personal injury lawyer, we provide you with financial assistance before your case settles," DeVictoria explained.
Joe Bruha, senior marketing manager of Grassi and Co., also a sponsor, spoke to guests about the company and its mission to support local lawyers with accounting and auditing services. "We want to support Long Island lawyers and do a lot of work with the local legal community," Bruha said. "This event is a nice opportunity to network with lawyers and recognize their contributions."
During the networking and cocktail party, honorees expressed their gratitude for their peers' recognition. "This day and age, a lot of people who went to law school are questioning that decision," said Honoree Ross Kartez. "Being honored at an event like this, in front of my peers, is so rewarding because it reaffirms that decision and makes me confident doing what I do."
Kartez, who works in the litigation department of Ruskin Moscou Faltischek in Uniondale, lives in Rockville Centre with his wife, Deanna, and their two children. He earned an undergraduate degree at the University of Buffalo and a law degree at St. John's University.
Another honoree was Fredrick Johs, one of the founding partners of Lewis Johs Avallone Aviles, who is now the senior trial partner in all areas of litigation. Johs has over 35 years of experience in representing clients in significant claims cases. His work, he explained, focuses on the defense side of civil cases and medical malpractice.
"It's always nice to receive these kinds of honors," he said, "and the recognition from my peers means a lot to me."
Amy Amato, executive director of corporate relations and events at RichnerLIVE, shared a similar sentiment about the event and its goals. "Tonight's an exciting night to recognize the hard work that our honorees do professionally and in the community to help those in need," she said. "It reinforces RichnerLIVE's mission to connect, collaborate and celebrate Long Island's top business professionals."
Once attendees settled in the dining room for a three-course meal, members of the Nassau County Girl Scouts presented the colors to begin the ceremony.
"Lawyers, like journalists, are committed to upholding justice," said Stuart Richner, chief executive officer and publisher of Richner Communications, as he welcomed guests to the event.
Richner presented the honorees with ornate glass awards engraved with their names. Masters of ceremonies Antoinette Biordi, of News 12 Long Island, and Alyssa Seidman, of the Bellmore/Merrick Herald, introduced the lawyers as they walked to the stage to cheers of support and appreciation.
"Community is important to our honorees and guests, and, as a community newspaper, it's also important to us," Richner said before introducing the night's beneficiary, Island Harvest Food Bank, the largest hunger relief organization on Long Island, which received a portion of the event's ticket sales proceeds.
Click here for the article at LI Herald