Media Source: Gold Coast Gazette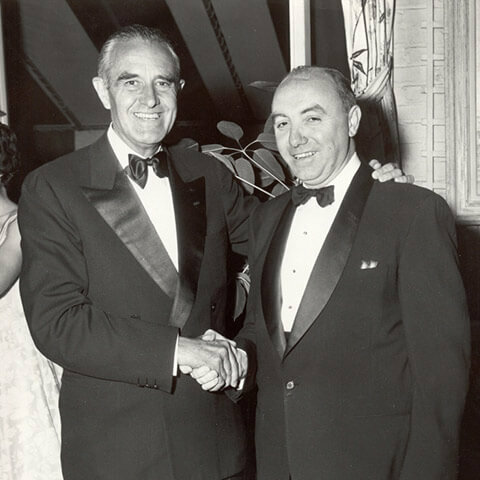 Glen Cove City Court Judge Richard McCord had an idea one day. Why not honor past judges who have served the City with portraits of each of them of be hung in the City Court? After working on the project for five years, it finally came to fruitation on January 24. "I think it is fitting to recognize the individuals who have given their time and experience to provide our City with the best legal expertise available," said McCord. "My esteemed colleagues and predecessors being honored here today have established a reputation for handling every case with a impartiality, earning the respect and trust of the people in community. Today. Every citizen of Glen Cove can be confident that they will receive fair, impartial treatment in the Glen Cove City Court.
"Hence, it is therefore appropriate to memorialize the legacy of fairness and integrity that these men, our Judges, have left for all of us here in Glen Cove."
Residents, family members and well-wishers packed the City Court for the unveiling. To follow are the judges' profiles." . . . .
Joseph A. Suozzi Served 1950-1955 (Circa 1960 - Pictured above are NYS Gov. Harriman on left, with NYS Supreme Court Justice, Joseph A. Suozzi at right)
Joseph A. Suozzi, the third of Glen Cove's City Court Judges, was elected in November, 1949 to a four-year term succeeding Judges Reginald Moore and William Cocks. He was 28 years of age and was reputed to be the youngest elected or appointed Judge in the United States. He was born August 22, 1921 in the obscure medieval southern village of Ruvo del Monte, located in the province of Potenza, Italy. He and his mother Rosa Ciampa immigrated to the United States in 1925 to join his father Michele who had preceded them to the United States, arriving here in 1913. Before returning to Italy in 1920 to marry, Michele Suozzi had served in the U.S. Infantry and had become a naturalized citizen. As a result of this Judge Suozzi was a citizen of the United States.
The Suozzi's made New York City their home until 1925 when a job opportunity brought them to Glen Cove. Michele Suozzi became employed as a caretaker at the North Shore Mansion of Isabel Dodge Sloane in Lattingtown. The mansion was named "Brookemade" after the nationally famed racing stables that bred the Kentucky Derby winner Cavalcade and other notable thoroughbreds. Michele was employed there for 40 years until his retirement.
After completing his elementary and high school education at St. Patrick's School in Glen Cove and St. Dominic's High School in Oyster Bay, Judge Suozzi entered Fordham University School of Education in the Woolworth Building in Downtown New York in September 1939. He was awarded a Bachelor of Science degree in Education in 1943.
Prior to his graduation in April, 1943, he volunteered as an Aviation Air Cadet and upon graduation, he immediately entered military service with the U.S. Air Force.
After the prescribed training at Coral Gables, Florida, he became a navigator and was assigned to a B-24 bombing crew of the 15th Air Force and based at Torretta Air Field in Cerignola, Italy which was less than 50 miles from his birthplace. Between August, 1944 and May, 1945m he completed 35 bombing missions in Austria, Yugoslavia, Germany, and Italy for which he was awarded the Distinguished Flying Cross and the Air Metal with three Clusters. Between May and September, 1945 he was reassigned as a Classification Officer in Greensboro, North Carolina prior to his discharge in September, 1945.
Judge Suozzi was then admitted to Harvard Law School, from which he received a Doctorate of Law in January 1948. In November of 1948 he was admitted to the practice of law in the State of New York and joined with then Mayor Luke Mercadante as a law partner with an office in Glen Cove. The law firm became Mercadante, Suozzi, and Sordi, with the addition of Nicholas A. Sordi in 1950. Judge Suozzi continued to practice law with Nick Sordi in the firm of Suozzi and Sordi until his election the Supreme Court in 1960.
Elected to the bench of the City Court of Glen Cove 1950 and re-elected in 1953, Judge Suozzi resigned in September of 1955 to become candidate for Mayor of Glen Cove and Supervisor of the County of Nassau. He served as Mayor from January 1, 1956 until December 1960. In 1958 he was the Democratic candidate for Nassau County Executive in the same election in which Gov. Averall Harriman was seeking a second term against Nelson Rockefeller. That election was remarkable in that Judge Suozzi lost by a mere 35,000 votes at the same time that Governor Rockefeller mustered a plurality of more than 175,000 votes over Harriman in Nassau County. In November 1950 he was elected to a four-year term as Justice of the Supreme Court of the State of New York. He was reelected in 1974 for another term with bipartisan support. In September of 1976 then Governor Hugh Cary appointed him as Associate Justice of the Appellate Division, Second Department. In August of 1979 he resigned that position and resumed the general practice of law as a Senior Partner in the law firm of Meyer, Suozzi, English & Klein, a general practice law firm with a concentration on commercial litigation, corporate law tax certiorari and labor law. He continues as a partner in the firm to this date.