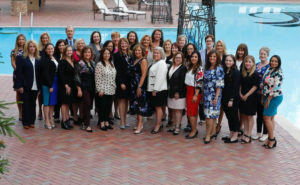 The Women's Collaborative was established in 2014, the Women's Collaborative is an innovative model that encourages partnerships and presents opportunities for the advancement for professional women. The Women's Collaborative is a catalyst to encourage meaningful conversations and support creative growth.
The Long Island Associationhas been supporting the Women's Collaborative since its inception.Seeing a need to bring professional women together for leadership development, networking and as a resource for each other, the LIA committed to giving the WC a home at their headquarters.
Ivy Algazy is the CEO & Founder of The Ivy Network, LLC., the mastermind behind the Annual Collaborate with Edge Leadership Conferenceand the Director of the Long Island Associations Women's Collaborative. She started The Ivy Network, LLC in 2014, teaching her innovative Edge Women's Leadership curriculum to 100's of women; creating stronger bolder women leaders.