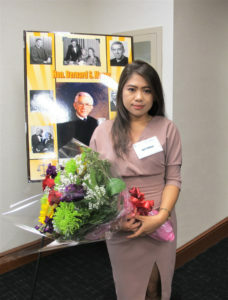 July 17, 2019, (Garden City, NY), Jeri Milan, a student at CUNY School of Law, has been selected as the 2019 recipient of the Judge Bernard S. Meyer Scholarship. Established in 2004, the scholarship is funded by Meyer, Suozzi, English & Klein, P.C. and administered by The New York Bar Foundation. The $5,000 scholarship is awarded annually to second-year law students in New York State who excel in legal writing and advocacy.
To be considered for the Scholarship, applicants must submit an essay that demonstrates technical writing skills, critical thinking, and advocacy. Ms. Milan's winning paper, entitled "Gideon in Removal Proceedings: Towards a Categorical Right to an Attorney for Indigent Immigrants," addresses the controversial topic of immigration and the laws surrounding it.
In accepting the award, Ms. Milan stated: "Today, I bring the story of indigent refugees and immigrants into the foyer of legal advocacy, bearing the message that it is unconscionable to put them in deportation proceedings without the aid of an attorney. It is an amazing honor to be given the Judge Bernard S. Meyer Scholarship. I am deeply humbled by this opportunity to honor Judge Meyer and his advocacy, legal scholarship and judicial writing, and to celebrate the incredible person that he was. I also wish to honor the resilience of our undocumented population, who live in fear yet work very hard as if the progress of this country rests on their backs. Thank you to the New York Bar Foundation and Meyer Suozzi for the recognition and the prize, and for supporting students like me in our advocacy."
Ms. Milan anticipates receiving her J.D. from CUNY School of Law in 2020.
The Scholarship Selection Committee, which judges the essay submissions in a blind reading, was comprised of Andrew J. Turro, Member of Meyer Suozzi, Hon. Michael A. Ciaffa, former Nassau County District Court Judge, and Emily Franchina, Chair of the Fellows of the New York Bar Foundation.
About Hon. Bernard S. Meyer
Judge Meyer practiced law in Maryland, Washington, D.C., and New York until his election in 1958, as a Justice of the New York State Supreme Court, Nassau County, where he served for 14 years. Judge Meyer was an Associate Judge of the New York Court of Appeals from 1979-1986 and practiced with Meyer Suozzi from 1987 through 2005. The Judge Bernard S. Meyer Scholarship was established in his memory, to serve New York State's legal profession.