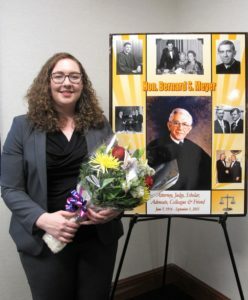 August 10, 2018 (Garden City, NY) Kaitlyn Karpenko, a second-year student at Columbia Law School, has been selected as the 2018 recipient of the Judge Bernard S. Meyer Scholarship. Established in 2004, the scholarship is funded by Meyer, Suozzi, English & Klein, P.C. and administered by The New York Bar Foundation. The $5,000 scholarship is awarded annually to second-year law students in New York State who excel in legal writing and advocacy.
To be considered for the Scholarship, applicants must submit an essay that demonstrates technical writing skills, critical thinking, and advocacy. Ms. Karpenko's winning paper, entitled "DNA Collection and the Troubling Precedent of Maryland v. King" addresses the evolution and legal implications of advanced DNA analysis.
In accepting the award, Ms. Karpenko stated: "I am so excited and grateful to receive the Judge Bernard S. Meyer Scholarship. I am especially thankful for the New York Bar Foundation and to Meyer, Suozzi, English & Klein, P.C. for its generosity. I believe strongly in the power of written advocacy and the special role that lawyers play in our society. Judge Meyer was a great influence on the legal practice, and I hope through scholarship and determination to make a contribution toward greater justice and fairness for all."
Ms. Karpenko anticipates receiving her J.D. from Columbia Law School in 2019.
The Scholarship Selection Committee, which judges the essay submissions in a blind reading, was comprised of Andrew J. Turro, Member of Meyer Suozzi, Hon. Michael A. Ciaffa, former Nassau County District Court Judge, and Emily Franchina, Chair of the Fellows of the New York Bar Foundation.
About Hon. Bernard S. Meyer
Judge Meyer practiced law in Maryland, Washington, D.C., and New York until his election in 1958, as a Justice of the New York State Supreme Court, Nassau County, where he served for 14 years. Judge Meyer was an Associate Judge of the New York Court of Appeals from 1979-1986 and practiced with Meyer Suozzi from 1987 through 2005. The Judge Bernard S. Meyer Scholarship was established in his memory, to serve New York State's legal profession.
***
About Meyer Suozzi
Founded in 1960, Meyer, Suozzi, English & Klein, P.C. is a distinguished provider of legal services, with a reputation for integrity, insight and excellent client service. The firm's attorneys are committed to their clients, community, public affairs and diversity. With offices in Albany, Garden City, Manhattan and Washington, D.C., the firm provides legal advice in 18 practice areas. The firm can be found online at www.msek.com.