Alternative Dispute Resolution
Criminal Defense
Litigation & Dispute Resolution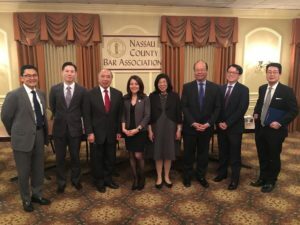 On May 2, 2018, the Diversity and Inclusion Committee of the Nassau County Bar Association presented the Judicial Re-enactment of the Landmark Decision where Judge Constance Baker Motley, then an attorney for the NAACP fought for the rights of James Meredith to attend the University of Mississippi. Thanks to Nassau County Bar Association President Steven Leventhal for his support of this newly formed Diversity and Inclusion Committee. Further appreciation and recognition to Honorable Judges Linda Mejias and Maxine Broderick , Co-Chairs of the Committee and Rudy Carmenatty for their dedication and commitment in planning and presenting this important historical program.
The re-enactment included Justice Randall T. Eng in the role of US District Court Judge Mize. The re-enactment was followed by a 10-minute talk with Margaret Ling, Development Director and Co-Chair of the AABANY Real Estate Committee. Margaret is also a member of the Nassau County Bar Diversity and Inclusion Committee and shared special moments and experiences of her clerkship with the US Chief Judge of the SDNY, Constance Baker Motley.
The event was well attended and followed by a reception.
Thanks to AABANY; KALAGNY; and the Network of Bar Leaders for their support and sponsorship