Media Source: Long Island Pulse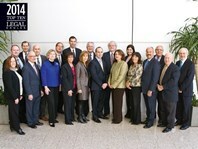 Long Island Pulse Magazine handed out its 2014 Top Ten Legal Eagles awards at an event at The Carltun in Eisenhower Park on March 11, 2014. Meyer, Suozzi, English & Klein, P.C. was honored with the 'Most Unbeatable' Award for its accomplishments. This marks the first time that the award was presented to a firm, rather than an individual attorney.
Long Island Pulse, which has been featuring a listing of the region's top attorneys for six years, recognizes attorneys who excel both in their career and community service. Ten categories of award recipients are selected from the listing through a peer review process. In prior years, Meyer Suozzi attorneys have been featured in the list, and Managing Attorney Lois Carter Schlisseland Litigation Department Chair Kevin Schlosser received top awards in their respective practice areas.
"The title of 'Most Unbeatable' is certainly an outstanding distinction for our firm," said Lois Carter Schlissel. "This firm-wide accolade recognizes our depth of talent and broad scope of successful representations. We are pleased to accept the award and look forward to continuing to serve the community in complex transactional and litigation matters."
Long Island Pulse, the largest magazine on Long Island, features the Legal Eagles section annually to provide readers with a reliable source for finding the region's best attorneys. The magazine is read monthly by professionals and has an ABC audited circulation of 100,000 copies monthly, qualifying the title as one of the largest regional magazines in the country.