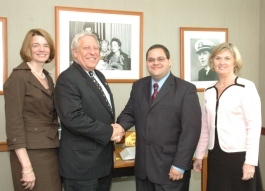 Nicholas A. Dorsey, a student at Cornell Law School, has been chosen as the 2008 recipient of the Judge Bernard S. Meyer Scholarship funded by the law firm of Meyer, Suozzi, English & Klein, P.C. (Garden City) and administered by The New York Bar Foundation. Established in 2004 by Meyer Suozzi, the award is available to second-year law students attending a law school in New York State and is being presented to the student who exhibits excellence in legal writing and advocacy skills.
Dorsey is recognized for his legal scholarship for a paper he wrote, "Mandatory Reassignment Under the ADA: The Circuit Split and Need for a Socio-Political Understanding of Disability." The paper discusses the Americans with Disabilities Act of 1990 (ADA) and the various models offered to explain disability as a social concept. It demonstrates how the text, legislative history, and policy behind the ADA require mandatory reassignment. Dorsey determines that, "Through a socio-political understanding of disability, one begins to recognize that social institutions were not built neutrally and that mandatory reassignment is an appropriate response to such inequality." You can access the essay at www.tnybf.org and a final version will appear in Volume 94:2 of theCornell Law Review.
Lois Carter Schlissel, managing attorney for the firm said, "We are very pleased that the Judge Meyer Scholarship has been awarded to Mr. Dorsey. This essay contest allows the firm to encourage excellence in legal writing and advocacy among future members of our profession while honoring Judge Meyer for his outstanding work and dedication to the law."
A Canton, Ohio resident, Dorsey was an Honors Fellow in the Lawyering Program at Cornell and is now a Note Editor for the Cornell Law Review. He has received the CALI Award in Lawyering, the Fredric H. Weisberg Prize for Constitutional Law, and the Kasowitz Prize for Excellence in Legal Writing and Oral Advocacy while attending Cornell Law School. He graduated summa cum laude with a B.S. and M.S. in accountancy from Case Western Reserve University (Cleveland, OH) in 2006 where he was awarded the President's Scholarship and named the most outstanding senior in accounting. He served as president of Beta Alpha Psi and vice president of the debate team while there.
John R. Horan, president of The Foundation said, "We are pleased to award the Judge Meyer Scholarship to a student of such distinction. Mr. Dorsey's essay discusses a subject with significant relevance to all Americans, particularly the disabled, who struggle with serious issues including civil rights, employment, health, transportation, housing and education. His paper exemplifies the excellent legal writing and advocacy skills that we seek in law students planning to become members of the legal profession."
The $5,000 scholarship will be applied to Dorsey's 2008/2009 tuition at Cornell where he is a member of the Business Law Society, the Moot Court Board, and Phi Alpha Delta. Additionally, he is a student member of the American Bar Association, the New York State Bar Association, and associate member of the American Institute of Certified Public Accountants.
Judge Meyer was an associate judge of the New York Court of Appeals from 1979-1986 and practiced with Meyer Suozzi from 1987 until his death in 2005. He earned his law degree at the University of Maryland School of Law and was a graduate of Johns Hopkins University. Among his notable accomplishments, he served as special Deputy Attorney General of New York in charge of the Special Attica Investigation and was a member of the Governor's Commission on Integrity in Government.
Andrew J. Turro and Michael A. Ciaffa of Meyer Suozzi and Foundation Board member, Lucia B. Whisenand, comprise the scholarship selection committee and participated in the judging of the essay submissions.
The Meyer Scholarship is one example of the important initiatives that have been designed to stimulate the growth of The Foundation's endowment and better serve New York's legal profession, the justice system and the community. For more information about The New York Bar Foundation, visit www.tnybf.org or contact Rosanne M. Van Heertum, director of development, The New York Bar Foundation, One Elk Street, Albany NY 12207, 518/487-5651.